Backstage with KC Concepcion
Philippine Daily Inquirer, July 13, 2001 by Gloria P. Sicam

YOU know how Forrest Gump had this knack for stumbling into important moments in history without knowing it? He met JFK, was in the same interview as John Lennon, and mooned Richard Nixon without the slightest awareness of just how famous these people were. For him, they were people he just happened to meet. No big deal.



Exact opposite


Well, I am the exact opposite of Forrest. I've stumbled into show biz personalities and places and I am incredibly aware of it. And outwardly, I've put on a (what I hope is) nonchalant expression, but inside, I'm saying… wow, I can't believe I'm here!

Like when I sat beside Cherie Gil in a little restaurant in Singapore (she had come specifically to watch the opening of "Rent," to see her brother Michael de Mesa), and she was talking to me like we were both just regular people. All I could think of was, wow, I'm sitting beside the woman who said those famous lines in that movie I watched growing up… "You're nothing but a second rate, trying-hard copycat!"

And now it's happened again. I am working with KC Concepcion, the daughter of Megastar Sharon Cuneta and her on- and off-screen (for a time) love team partner, Gabby Concepcion in the musical, "The Little Mermaid." She's Princess Sapphire and I am her Lady-In-Waiting (translation: glorified alalay).

The significance, show biz-wise, of this young girl is not lost on me. The history of how she came to be is chronicled in many newspapers and entertainment shows. Her mother is one of the consistently famous faces in show business. Her stepfather is now a senator. The birth of her baby sister made headlines.

How do you cope with all this fame around you? How do you deal with the fact that your mom is one of the biggest stars in the Philippines, and that you are the product of one of the most adored love teams in Philippine entertainment? One would think a person put into a situation like that would grow up to be one of two things – a spoiled princess or a neurotic recluse. If you believe what movies tell you, anyway.



Pleasant and affectionate


But KC is anything but spoiled or neurotic. She is one of the most pleasant and affectionate 16-year-olds I've ever met. She is completely unaffected by the fame of her parents, and the potential fame she could gain if she wanted it. She's a breath of fresh air in the stale environment of show biz pretentiousness. Her mom has done a good job of keeping her feet planted firmly on the ground.

She enters the rehearsal room in her usual blouse and skirt (ever since our director told her that princesses wear skirts and not jogging pants). She gives everyone the usual beso-beso, and for some, a child-like hug and leaning of her head on various shoulders. It makes one think, with some fondness: What a sweet kid! She reminds me of my younger cousins all caught up in… well, being a teenager.

But while other teenagers put their barkadas above all else, this 16-year-old values her family. On her cellphone is an acetate of her and her baby sister Frankie. One rehearsal, she even brought a photo album full of pictures of her mom, her stepdad, her baby sister, and her cousins.



Megastar visit


One afternoon, none other than her megastar mom came over and visited, with Frankie in her arms and two yayas in tow. Our director, Jaime del Mundo, isn't one to be fazed by a visit from a mother and child, but babies in rehearsal are a magnet for all the women in the cast, and make them act like cooing idiots.

Frankie was a good sport through all of this – wonderfully civil, and didn't whimper once, even as a flock of strange women gathered around her and passed her from one person to the next. But when KC held Frankie in her arms, I thought, this girl just loves being an "ate".

It was amusing to watch Sharon's reaction to her daughter's performance during rehearsal. When KC and her co-actor playing the prince (Noel Rayos) stood up to do the "love scene" (which is basically when the prince and the princess profess their love for each other, and therefore involves some hugging and touching of faces), Sharon cleared her throat loudly, like a mom reacting to a potential suitor.

KC said, hastily, "Oh yeah, Mom, this is Noel… Noel, my mom…" as the cast laughed and wagged their fingers at Noel. When Direk Jaime cautioned KC not to be overly flirtatious in this scene, Sharon laughed and shook her head, as if to say, "Haay naku!" It must've been quite an experience for Sharon to watch her own daughter do what she does for a living. She looked like she was bursting with pride.



Openness


KC's doing quite well, considering this is her first foray into the professional theater world. She's got this openness and willingness to learn that not many young talents have these days. She and I have made our own private jokes so that we can laugh together on cue. A bit complicated to explain in this article, but all we have to do is make a gesture with our hands and we're sent into gales of laughter.

And although our director keeps on reminding her to stop leaning forward so much and to remember to stand on both feet (and not on tiptoe), she's beginning to succeed in portraying an older, more mature woman – well, at least a few years older and more mature than 16.

Not only is she open to learning, but she's also open to forming friendships and… well, bonding with the rest of the cast. The other day, a big portion of the cast went out to watch "Tomb Raider," and KC came along (with her yaya, who is there for every rehearsal. KC calls her yaya her best friend. Maybe I should observe her to know what to do as her "yaya" onstage). We had coffee after, and KC was there, talking it up and playing games with the rest of us.

Auditions


What impresses me the most about KC is that she got the job just like the rest of us did – she lined up and went through nerve-wracking auditions. When asked what part she was auditioning for, she said: any part at all. That commands my respect right there. She didn't go through the agent/special auditions route.

Another thing I like about her is just how easy it is to make her laugh. I feel like the world's greatest comedienne around her. There are people who are just like that – you like making them laugh because you love hearing their laughter. KC's one of those people.

Whatever she decides to do with her career – and it's beginning to look promising, what with her being the image model of Human and this role in "Little Mermaid" – I'm just glad I got to know her and that I can make her laugh. Because she's one loveable, down-to-earth kid… someone who's really worth knowing.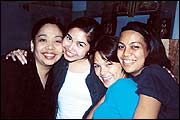 FROM LEFT: cast members Chari Arespacochaga, Cathy Azanza, KC and the author.